I've decided to start collecting my Covid-related inputs, whether it be graphs I check, podcasts I listen to, articles I read. These will not be only things I agree with, or disagree with, or whatever. I just wanted a place to document my inputs. Some will be from the health angle, or fitness angle, or political angle. Some with be a conversation within a greater conversation.
Basically, these are not endorsements, but inputs. Instead of multiple posts, I am just going to "collect" here.
7-day Rolling Average of Deaths Per Millions
Daily confirmed new cases (5-day moving average)
538 Covid Projection Models
Share of COVID-19 tests that were positive
Illinois Positive Rate
Week of 7/20/20
Podcast: Robb Wolf's Healthy Rebellion Radio: Covid Update: Treatments and Perspective | Salty Talk 016
Article: Trump to bring back coronavirus briefings in attempt to revive reelection campaign
Article: Every Decision Is A Risk. Every Risk Is A Decision.
Article: Teachers' union urges most schools to not reopen for in-person learning
Podcast: On The Media: This is Fine, segment 2
Week of 7/13/20
Article: White House Document Details 18 States in 'Red Zone' for Coronavirus Outbreak
Article: Here's what the CDC recommends schools do as they reopen
Article: Navarro Doesn't Give Full Picture On Hydroxychloroquine
Article: Canada, US and Mexico poised to extend border restrictions
Article: IHSA To Defer To IDPH, ISBE & Governor's Office On All Return To Play Guidelines Moving Forward
Article: White House tells hospitals to bypass CDC on COVID-19 data reporting
Article: COVID-19 vaccine: Moderna to begin final human trial at end of July (spoiler alert: subjects to be tracked for two years).
Article: Did Betsy DeVos Say COVID-19 Will 'Only' Kill .02% of US Students?
Article: NJCAA announces updated plan of action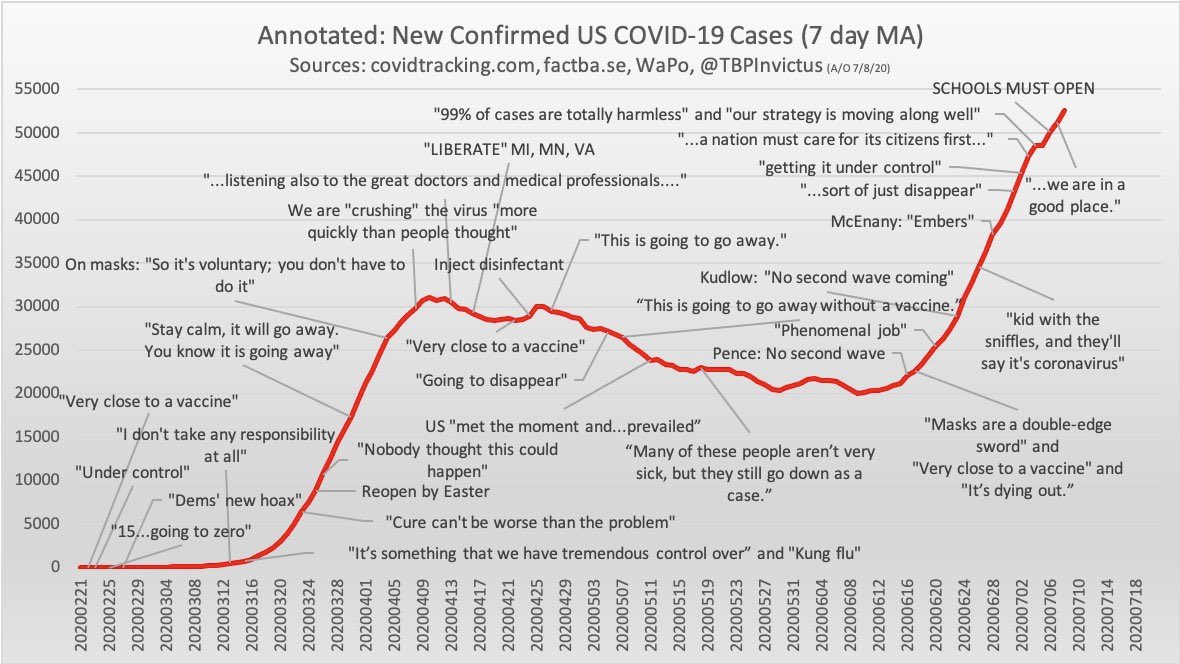 Week of 7/6/20
Article: 32% of U.S. households missed their July housing payments
Tweet: New Covid Cases On Tuesday
Article: Illinois, regional economies shrink in first quarter
Article: Goldman Sachs cuts 2020 U.S. economy's growth outlook as COVID-19 cases soar
Podcast: Ross Tucker Podcast–Dr. David Cho: Can Covid and Football Co-Exist?
Article: The Impending Retail Apocalypse
Podcast: EP 367 – REASON AND LOGIC 101 WITH DEREK WOODSKE. The first part of the interview is Covid-related. The second part is just a fun listen about life.
Podcast: A Conversation with Kirk Parsley, MD | Salty Talk 014 | THRR