My Journey To Becoming A Two-Time CrossFit Games Champion, by Katrin Davidsdottir
Katrin Davidsdottir has been to the top of the mountain within her world, twice. As a two-time CrossFit Games champion, and a member of the Dottirs with Annie Thorsdottir and Sara Sigmundsdottir, her name is synonymous with badass females within the fitness world.
My attention span with the Games had waned by the time Katrin had ascended to the top, so I was only tangentially aware of her story. Still, I followed her on Instagram, and saw her post about her autobiography. I decided to buy it. Admittedly, some of that may have been because I had just recently visited Iceland.
The book touches on her background as a child. The granddaughter of an ambassador and daughter of a teenage mother, she had a fair amount of travel thanks to her grandfather. Family is a central part of the book, her motivations, and a provider of both the high and low moments in her life, maybe even more so than the CrossFit moments.
Something I noticed on my trip to Iceland was how much the home land meant to the people. Not in the patriotic 'Murica way we do it here in the States, but in a subtle pride in the uniqueness and toughness of heritage. Chapter five of the book is dedicated to Iceland. This chapter may have been much more interesting for me than the average reader simply because of my visit, the familiarity and my confirmation biases inherent within.
Her athletic background included a fair amount of gymnastics at a young age. The CrossFit journey began in 2011-12, first with Bootcamp and then with full sport training. It was Annie who first rose to the top of the sport, and inspired Katrin to get involved. That led to competing in the 2012 Regionals, and coming out gangbusters by finishing at least third in every event and qualifying for the Games easily.
The best parts of the book, however, are not her highs, but the lows. And not in the "poor me, look at tragedy" way. It's not an emotional pull, but an inspiring one. The big takeaway from the book is the mental battles she fought, and the learning she did after the failures. After rocketing out to a fast start in 2012, she didn't even qualify in 2013. The transformation she underwent from that moment to then reaching the top in both 2015 and 2016 provide valuable lessons for growth.
Katrin does well to focus on the mental journey she has undertaken. This book could have easily been a recount of her training, and grind down with the specifics. Some of the logistics is in there, but focus is on the lessons that can be applied to any walk of life, not just CrossFit. She found, and lost, her passion. She had to overcome both physical and mental obstacles. She lost loved ones, and came out with more motivation. She learned who her truest rival is–herself, and the built-in advantage knowing that provides in life. In her time with trainer Ben Bergeron, there was a heavy emphasis on personal and mental growth. You cannot overcome the physical obstacles until you overcome the mental ones. It was that growth that led her to where she is, and she is aware enough to both notice, and highlight that in the book. Impressive for someone still not even 26 years old yet.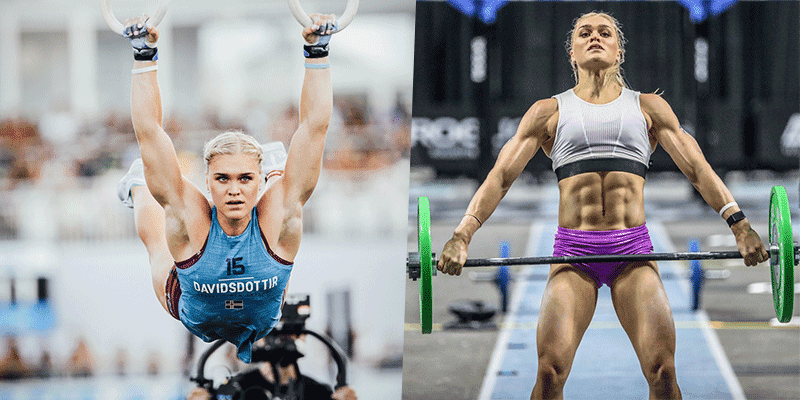 The hardback sleeve has an endorsement from multi-time Men's champion Matt Fraser "If you love Katrin and you love the CrossFit games, then this is the book for you." I did neither going into this book. Coming out, however, I have gained respect for her.
We already covered part of my reading process before. Below, I am including some of the quotes I pulled from this book.
"All this time I had been waiting for some external force—the venue, the crowd, a wand-toting fairy godmother—to re-create the intangible feelings of invincibility that led me to victories in years past. I had been waiting for it to happen to me instead of making it happen for me. I had to create my own magic."
"This arduous process was the same no matter what I was learning. It was a priceless lesson that success doesn't simply appear; it takes hard work, passion and resilience. I learned that I could succeed in anything, if I was willing to commit myself to it."
"I have never taken for granted how lucky I am to grow up in this environment. It' something I'm passionate about sharing. I want women to have more confidence, and to believe in themselves. You're never going to do something by accident. You have to believe in yourself to want to become something."
"I was always a hard worker, but I didn't know what real hard work looked like, or the best way to train myself for it."
On learning to find success in the journey, not the destination: "I'm proud because of what it represents—a better way to measure progress—and of how it was accomplished—by the endless pursuit of improving myself."
"If you know who you are and why you're doing what you're doing, you will have an easier time digging deep in the fourth round of a five-round workout. If you have ultimate belief in something, you have higher purpose. If you have higher purpose, you are able to accomplish amazing things."
"With my team, too hard isn't a thing. We practice and face too hard all the time so that when opportunities like this arise, I can gamble on my ability to recover."
"I'm so tired of okay. Okay isn't good enough."
"Being a champion is not about holding your hand in the air and accepting a medal, it's about the way you carry yourself every second of every day."
"You can only regret something and truly call it a mistake if you don't learn from it."
"Failure has been the key ingredient to my success in sports and in life. Had I not known failure, I would have continued to accept 'good enough.'."